TAKE ON SUMMER WITH CAYENNE SPA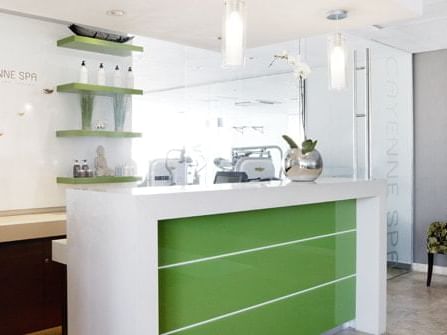 Spring is in the air! Flowers are in bloom, trees are boasting fresh green leaves and the arrival of summer is imminent. Even though the winter blues are nearly out of sight, your skin and mood may need a final push to embrace that summer feeling.
We asked Washiema Adams, Spa Manager at Cayenne Spa – our own award-winning spa on the eighth floor – to share some of her thoughts on how to prepare your skin for the upcoming summer months.
#1 Pencil in some me-time to rejuvenate mind and body: This is not only important when transitioning from seasons, but also from day-to-day lives and hectic schedules that can also take their toll.
Spa treatments like massages have many proven health benefits such as muscle relaxation, the healing of sports injuries and the improvement of circulation. Spa therapy also helps to induce a sense of relaxation and tranquillity which is beneficial for good health.
Although it can be difficult to get to the spa due to busy schedules, Cayenne Spa offers treatments that will not only get your body summer ready, but are also friendly on the clock, such as the Soul of Africa90 minute treatment which includes a full body Inkomfi exfoliation to remove dead skin cells followed by a full body massage.
Another option is the African Goddess treatment which incorporates an intense de-stressing and re-balancing facial which hydrates your face and back with natural oils perfect for sun kissed skin. You'll also be treated to a back cleanse and foot rejuvenation."
#2 Get that summer glow: A healthy, glowing skin is guaranteed to give you that instant summer feeling. A great beauty trick to achieve this is to make your own body bronzer by mixing some loose facial bronzer with body oil or body lotion to give yourself an instant tan.
#3 Don't neglect your skin: In order to take care of your skin throughout the summer, apply an SPF over your moisturiser on a daily basis to counteract the harmful effects of the sun. If you are going to the beach or spending long hours outdoors make sure to re-apply SPF throughout the day.
Although some think that after-sun is a fancy body lotion, it is also just as vital as SPF because it is formulated to repair skin that has been damaged by the sun.
Need to pencil in some 'me-time' to restore and rejuvenate? You can contact Cayenne Spa on 021 812 8812 or email spamanager@pepperclub.co.za. Please visit www.pepperclub.co.za/cayenne-spa for our treatment menu, specials and packages.​