CAPE TOWN'S EMERGING GIN SCENE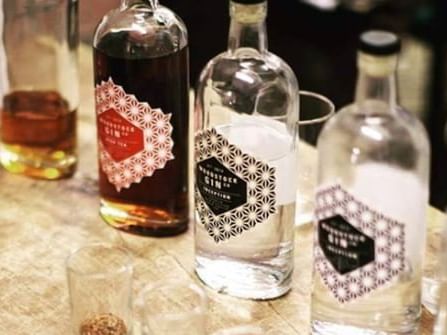 Having recently enjoyed a renaissance world-wide, artisanal gin is the latest trend to hit the craft scene in Cape Town. This white spirit, which is flavoured by juniper berries, is a perfect fit with South African flora as it serves as a blank canvas for local distillers to infuse their own handcrafted blend of traditional South African flavours from indigenous fynbos and other botanicals.
Giving the city's craft beer trend a run for its money, Cape Town's gin scene is fast emerging, with a small but notable selection of premium gin distilleries found in and around the city. Here are some of Cape Town's top local gin distilleries to visit:
Woodstock Gin Company
399 Albert Road, Woodstock | +27 21 821 8208
As the name implies, this small scale distillery is based in Woodstock and was founded by Simon Von Witt. With a passion for gin-making and a belief that creating the perfect gin is far more than simply infusing alcohol with juniper, Simon has developed a fynbos gin that fuses Rooibos, buchu herbs and honey bush – a combination of endemic Cape botanicals that make this gin truly unique. Tasting can be enjoyed at the distillery, but bookings are essential so be sure to call ahead to arrange a tasting session or tour
Inverroche Distillery
​Laurenskirk Estate, Old Riversdale Road (R305), Stillbaai | +27 (0)28 754 2442
For a rewarding day trip, a visit to Inverroche Distillery is highly-recommended. Ingredients are harvested by hand from the Cape's coastal dunes and mountainous regions, with a focus on sustainable harvesting that has little impact on the surrounding environments. The distillery produces three uniquely South African gins starting with the Classic Gin which boasts citrus flavours along with Angelica root and Cassia bark to add depth, and lastly a hint of coriander seeds and cardamom pods. Gin Verdant, their more subtly favoured product, features ingredients from all over the globe from exotic African flavours, to spices from the Middle East and the European juniper. Lastly, the Gin Amber is a complex gin balanced by coastal botanicals that produce its amber colour. Visitors can choose from a distillery tour and tasting, or a simple 15 minute sampling experience. Bookings are essential.
New Harbour Distillery
Unit 009, Masons Press, 7 Ravenscraig Road, Woodstock | +27 (0)82 550 3421
Also based in Woodstock, the New Harbour Distillery uses both modern and traditional distilling techniques to create a selection of spirits that include gin and vodka. Their specialties include Spekboom gin which is created from the leaf of the Spekboom tree and is very high in vitamin C. while their Rooibos gin provides a one-of-a-kind flavour using botanicals unique to the Cape Peninsula. Along with their distillery tour, you can also try your hand at a gin making class or book a gin tasting. Bookings are essential for all activities.
Jorgensen's Distillery
Versailles Farm, Regent Street, Wellington | +27 (0)21 864 1777
Jorgensen's Gin uses spicy juniper berries that is harvested in Paarl from South Africa's only juniper plantation. Exotic additions to the gin include angelica root, orris root, calamus root, coriander, liquorice root, bitter apricot kernels and African wild ginger, which all add plenty of depth, while top notes from delicate touches of naartjie and Cape lemon peels, buchu, Grains of Paradise, rose geranium and perfumed Ohandua from Kaokoveld, further enhance the gin's flavour profile. Tastings and tours are available on request and bookings are essential.
Hope on Hopkins
Image courtesy of Crush Magazine
7 Hopkins Street, Salt River | +27 (0)21 447 1950
A boutique distillery based in Salt River, Hope on Hopkins is the Mother City's first gin distillery and offers plenty of character. Named after the owners' grandmothers, Maude and Mildred are the first two stills to be licensed by the City of Cape Town and are used to create a unique gin range that uses botanicals for added taste and aroma. Hope on Hopkins offers a special tour and tasting experience where Mimo, the distillery cat, will be waiting to greet you.
​
At Pepperclub Hotel & Spa, we aim to provide our guests with the best possible experience during their stay. If you would like assistance to arrange a Cape Town gin tour or tasting during your stay at Pepperclub, contact our concierge and we will help you plan the ultimate gin experience.