WHEN YOU NEED A TASTE OF HOME – EXPLORING CULTURAL FOOD IN CAPE TOWN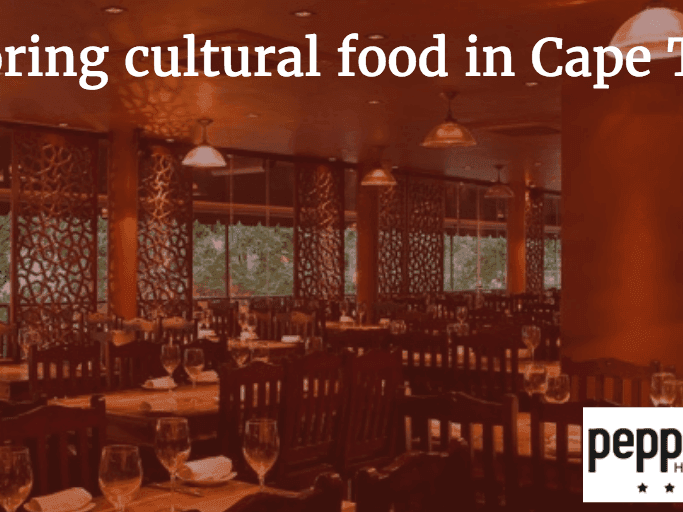 With a vast array of restaurants within the city centre, deciding where to eat can be challenging – but in a good way! Whether you have a yearning for something local or unusual or perhaps a taste of home, the Mother City is host to a variety of dining cuisines. While there are many traditional cuisine restaurants, such as local burger joints, pizza parlours, French themed dining spots and sushi bars, to leave you spoiled for choice, exploring some of the more interesting cuisine styles is a different alternative – and recommended!
To help you find some of the best cultural restaurants, we have divided some of our top picks into three categories: African, Indian and Middle Eastern. These dishes go over and beyond anything you would expect, resulting in a meal that is sure to be a highlight on any trip to Cape Town.
For Indian Cuisine in Cape Town:
Bukhara
33 Church Street (+27 (0)21 424 0000)
Rated as one of the best Indian restaurants in Cape Town, Bukhara serves a variety of authentic, delicious North Indian dishes that appeal to vegetarians and meat eaters. A spectacular Udaipur marble floor, opulent décor, attentive team of staff and delectable menu are just a hint of what's to come at this fine dining establishment. Open for lunch and dinner, Bukhara's menu highlights include Tandoori Chicken Champ, Lamb Barra Kabab and Paneer Tikka to name just a few.
Masala Dosa
167 Long Street (+27 (0)21 424 6772)
For a more relaxed Indian dining experience, the eclectic Bollywood inspired décor and style of Masala Dosa will make this eatery worth a visit. It's open from noon until 22h30 (closed on Sundays) and serves up affordable dishes and takeaways in a relaxed setting. Menu highlights include South Indian vada (lentil doughnuts stuffed with spices and coconut), aloo tikki (gluten-free potato dumplings) and dosa (rice and lentil crepe stuffed with various meat or veggie fillings), along with other delicious treats.
For African Cuisine in Cape Town…
Mama Africa
178 Long Street (+27 (0)21 424 8634)
A long-time favourite on Long Street, Mama Africa is open from noon to 15h00 for lunch, and from 18h30 to 23h00 for dinner. As the name suggests, the atmosphere is warm and welcoming – and true to traditional African culture. A menu full of South African dishes offers affordable delights ranging from game – expect everything from kudu to warthog and even crocodile – to bobotie, samosas, seafood and local desserts, such as malva pudding.
Addis in Cape Town
Corner Long Street and Church Street (+27 (0)21 424 5722)
Open daily from lunchtime until 22h30, Addis is where you can enjoy authentic Ethiopian cuisine. Halaal diners, vegetarians, vegans and meat eaters alike will have plenty to choose from on the menu, which includes a cocktail selection, as well as a variety of tasty mains, starters and platters. Be sure to try the injera (long, thin pancake used to scoop up stews and sauces) with a flavoursome meat or vegetable wot (traditional stew).
For Middle Eastern Cuisine in Cape Town…
Midtown
95 Plein Street (+27 (0)72 435 6006)
Open for lunch and dinner, from 11h30 to 23h00, Midtown is a stylish restaurant serving up contemporary Middle Eastern cuisine. Dishes are varied and affordable, with various platters and selections on offer for vegetarians and meat eaters. Cold mazza dishes range from Baba Ganoush to home-made hummus, while hot dishes include beef and chicken shwarma, Shish Taouk and other delicious options.
Mesopotamia
68 Church Street (+27 (0)21 424 4664)
This Kurdish restaurant has been an established dining hotspot for many years, and is a great place for authentic Middle Eastern food, as well as entertainment, décor and overall ambience. Large kilim cushions, antique copper tables, shared meze platters that are cooked on a traditional wood fire and a warm, inviting atmosphere are all part of the package. Meze platters include plenty of vegetarian options, as well as chicken and lamb dishes for meat eaters. There are also set menus available along with a range of traditional Kurdish main dishes, including vegetable and chick guvech options, kebabs and beyiti.
Of course, if you're in the mood for some contemporary fusion cuisine with a hint of American chic, be sure to try our very own Sinatra's Restaurant located on the Ground floor of Pepperclub Hotel & Spa, which is open for breakfast, lunch and dinner.
​
If you'd like help making bookings during your stay, our 24-hour concierge is here to assist with any reservations.