TOP 5 COFFEE ROASTERS IN AND AROUND CAPE TOWN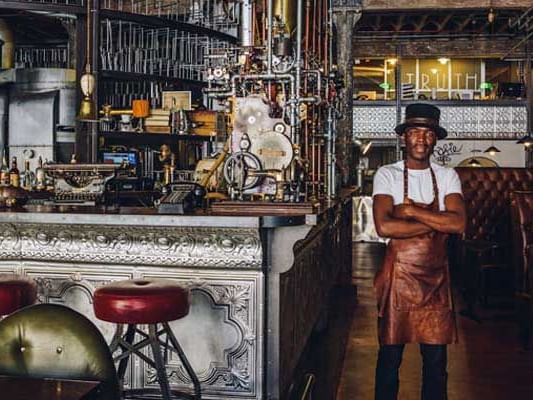 Whether it's a flat white, latte, or espresso that tickles your fancy, coffee culture has taken the world by storm and Cape Town is no exception. Playing host to what is arguably some of the best coffee roasters globally, the city is the playground for talented artisanal roasters and baristas who whip up a taste sensation in a cup
In order to ensure that you try only the best during your stay, here are some of the most popular coffee hot spots in Cape Town:
1. Truth Coffee Roasting
Recently dubbed the world's best coffee shop by The Telegraph UK, Truth Coffee describes their produce as a religion. Not only will you be treated to an award winning, gourmet coffee experience, but adding to the atmosphere is their 'steampunk' inspired décor, filled with metal piping and old machinery. With a focus on flavour over bitterness, their coffee is hand roasted in a vintage cast iron drum made with beans from Brazil, Ethiopia, India and Rwanda. They also have tasty breakfast and lunch options available.
Opening times: Mon – Thurs: 7am – 6pm, Fri: 7am – 10pm, Sat: 8am – 6pm, Sun: 8am – 2pm
2. Bean There Coffee Company
This eclectic coffee shop, based in Wale Street, sells single origin coffee blended with the best beans carefully sourced and selected in Africa from countries such as Kenya, Tanzania and Burundi. Bean There Coffee Company is not only renowned for their coffee, but are also South Africa's first roaster of certified Fairtrade coffee, an ethical certification that recognises traders who promote sustainability in the farming sector by ensuring fair payment to protect farmers against volatile price drops for the product. This decadent coffee is roasted in small batches with a focus on creating a perfect balance between aroma, body and flavour. And, catering especially for the adventure-seeking Capetonian and traveller, guests are able to stock up on what they call an 'adventure kit' which consists of an AeroPress, Porlex Mini Grinder, two enamel mugs and a 250g bag of DR Congo – perfect to take along when exploring the great outdoors in Cape Town.
Opening times: Mon – Friday: 7:30am – 4pm
3. Origin Roasting
Origin prides themselves on their hands-on expertise in all aspects of the coffee crafting process – from creating blends and roasting beans, to the Baristas who are trained in-house to ensure all Origin coffee is poured with style and sophistication. At their Headquarters in Greenpoint, guests will get to experience the full scope of their mastery which includes meeting the artisans, watching the roasting and even sit in on a coffee tasting session.
Opening times: Mon – Fri: 7am – 5pm, Sat – Sun: 9am – 2pm
4. Deluxe Coffee WorksDeluxe
Coffee Works can be found just off the City's trendy and bustling Long Street. Deluxe Coffee Works only produces two types of coffee: a signature house blend ( their claim to fame), as well as a decaf version called Decaf Brazil Santos which is 100% chemical free with a complex, yet balanced aroma. The house blend is described as smooth, full-bodied, rich and chocolatey and is made from a blend of beans from Brazil, Guatemala and Ethiopia.
Please note that this establishment does not offer food or wifi – only pure unadulterated coffee.
Opening times: Mon- Friday: 7am – 5pm
5. R CaféR
​Café, renowned for their coffee produced by resident barista Sibongile, offers a rich and complex blend with a bittersweet tang and hint of chocolate. The flavour carries beautifully into hot milk, making it perfect for cappuccinos and lattes. This unique, artisan blend is made up of beans from Ethiopia, India, Brazil and Costa Rica. Established in 2004, R Café is one of Long Street's veteran haunts known for its vibrant, bohemian and romantic feel. With quirky décor and friendly staff it's the perfect place to relax for lunch or to start off the day. Boasting an extensive menu with dishes ranging from breakfast, to fresh salads, gourmet sandwiches and homemade burgers, R Café provides an exciting option for everyone.
Opening times: Mon – Fri – 5am -17pm and Saturday & Holidays 8:30am – 3:30pm
Image courtesy of the Inside Guide.