WHAT DOES UBERX COST TO SEE THE CAPE TOWN BIG 7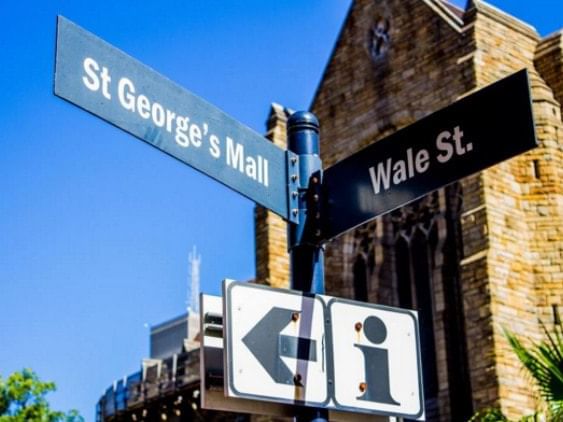 Traveling from afar and not sure how far Cape Town's attractions are from our hotel? We've put it in a universal term everyone understands – taxi fares!
​
While there are hundreds of sights to mesmerise your eyes and keep you entertained throughout your stay, we've listed the top Cape Town Big 7 tourist destinations to inspire your holiday itinerary, and exactly how much each trip should cost you from Pepperclub Hotel & Spa's front door:
1. City Walk – approx. R 20.00*
​Daily guided walks are available from Wale Street and will guide visitors on foot through Cape Town's inner-city district creating an absolute feast for all senses. The walk explores the Company Gardens, the Fan Walk, as well as the city's popular streets lined with public art on display.
Photograph by Cedric Harvey
2. V & A Waterfront – approx. R 35.00*
This is a must-stop attraction for any visitor to Cape Town as it offers entertainment, retail and dining experiences, as well as boat rides and sunset cruises, helicopter flips over the Peninsula and visits to the SA Rugby Museum, Scratch Patch, Two Oceans Aquarium, to name a few! But don't forget – Pepperclub Hotel & Spa also offers return complimentary shuttles for all guests.
Photograph by riverahector10
3. Robben Island (Boat departs from the Clock Tower at the V & A Waterfront) – approx. R 35.00*
Home to former President of South Africa, the late Nelson Mandela, during his years of imprisonment, Robben Island offers daily tours of the island, former prison and museum – a truly moving experience for any visitor to South Africa.
Photograph by instacptguy
4. Table Mountain Aerial Cableway – approx. R 50.00*
A trip to Cape Town is simply incomplete without a trip up the Table Mountain Aerial Cableway to the top of the majestic Table Mountain, recently awarded the title of 7th Wonder of Nature. Weather-permitting, the cableway operates daily and also offers free guided walks at the top station. Once at the top, visitors can take in the panoramic views of the city centre, learn about the indigenous fauna and flora that call the mountain home, or have a bite to eat at the City's highest restaurant – the Table Mountain Café.
Photograph by Des Theunissen
5. Kirstenbosch National Botanical Garden – approx. R 110.00*
Nestled on the slopes of Table Mountain, the Kirstenbosch National Botanical Gardens is one of nine National Botanical Gardens covering five of South Africa's six different biomes, and spans 36 hectares. It offers visitors picturesque hikes and leisurely walks, guided tours, and the ideal picnic and lunch spots. In Summer, the gardens also host a series of Sunday Summer Sunset Concerts with local artists and musicians, an increasingly popular event among locals and tourists alike.
Photograph by 99laura99
6. Groot Constantia Wine Estate – approx. R 150.00*
Established in 1685, Groot Constantia Wine Estate is the country's oldest wine producing estate. The estate boasts a range of activities including guided wine cellar tours, wine tasting and the Groot Constantia manor house museum which will whisk you back in time to life in 17 th century Cape Town. The estate is also home to two restaurants and a Deli.
Photograph by maxine_jac0bs
7. Cape Point, Table Mountain National Park – approx. R 500.00*
Photograph by hina_anna
The most south-western point of the African continent, Cape Point is the very tip of the Cape Peninsula, and falls within the Table Mountain National Park. The park is best explored over an entire day due to the many walks and guided tours on offer and the funicular up to the fully-operational lighthouse. There is also an educational visitor's centre and the beautiful Two Oceans Restaurant overlooking the Atlantic Ocean.
Pepperclub Hotel & Spa's friendly 24-hour concierge team is available to assist in booking any of the above activities and to assist with booking a shuttle or taxi.
*Above rates are an estimated cost based on UberX ride calculations and may vary at time of booking. These are single way fares. Uber is a pre-paid taxi cab service operated via a mobile app.
For more information, visit www.uber.com.