10 GREAT PLACES TO EXPLORE ON FOOT IN THE CAPE TOWN CBD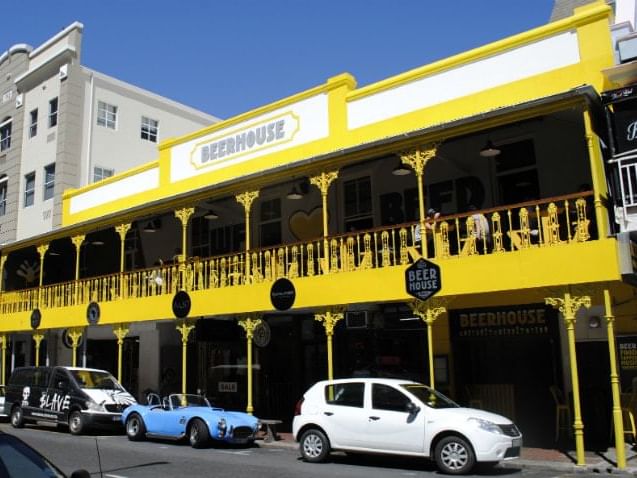 One of Pepperclub Hotel & Spa's greatest assets is its location! We are located in the heart of Cape Town's inner city district – a place that has, especially in recent years, come alive with various activities and interesting personalities.
Not only does the hotel neighbour Long Street – famous for its buzzing energy of people, restaurants and bars, but also Loop and Bree Streets. These areas are associated with New York and London's Soho districts – both synonymous with trendy boutiques, art galleries and museums, cafés and dining experiences.
The culture and vibe that has grown in the area over the past few years has transformed a former concrete-jungle into a vibrant, inner-city playground.
​
To provide guests with a feel of the areas surrounding the hotel, we have listed 10 places within walking distance from Pepperclub Hotel & Spa:
​
1. Beerhouse (about a 2 minute walk)
Image courtesy of Beerhouse.​
Located just a stone's throw from the hotel, Beerhouse is located on Long Street, the City's party-capital. Catering for all types of taste buds, Beerhouse is known for its 25 beers on tap, and legendary '99 Bottles' of the best local and international beer – from various craft brews to flavoured ciders. They also offer a food menu that features a range of tasty delights.​
2. Jason's Bakery (about a 2 minute walk)
Image courtesy of Shaun Swingler.
You can almost smell the aroma of coffee being brewed at Jason's from our entrance – and you'd be wise to follow your nose to this well-known artisanal bakery on Bree Street. One of the street's original occupants, the bakery is a popular choice among locals, and serves breakfasts, coffee, lunch and drinks.
3. St George's Cathedral (about a 5 -7 minute walk)
Image courtesy of Holiday Bug.
A short walk down to Wale Street will lead you to St George's Cathedral – the oldest cathedral in Southern Africa, which is still an active parish of the Anglican Archdiocese of Cape Town. The Cathedral is open daily for visitors to view the historic architecture and design, and guided tours are available by prior arrangement.
4. Iziko Museums' Slave Lodge (about a 5 -7 minute walk)
Image courtesy of SouthAfrica.net.
One of the city's oldest buildings, this museum forms part of Iziko Museums of South Africa and depicts South Africa's long history of slavery. Through this museum's regularly changing exhibitions, visitors can be exposed to various, artful awareness campaigns about basic human rights.
5. The Company's Garden (about a 5 minute walk)
Image courtesy of Southern Destinations.
Named after the Dutch East India Company that used to pass through the Cape on the journey to the east, the gardens were established in 1652. The luscious lawns and garden provide a wonderful pit-stop on a walking tour of the inner-city – a place to rest tired feet and enjoy a quick picnic lunch, whilst feeding the friendly squirrels, pigeons and ducks alongside the footpaths.
6. National History Museum & Planetarium (about a 7 – 10 minute walk)
Image courtesy of Travel Ground
South Africa's National History Museum and Planetarium located next to The Company Gardens offers plenty to see and experience. For a small entrance fee, visitors can experience South Africa's rich heritage – everything from the pre-historic to pre-colonial era, as well as an intriguing look at the planet's natural history. There are also daily shows at the Planetarium for children and adults alike.
7. An array of Art Galleries (about a 7 – 10 minute walk)
Image courtesy of State of the Art.
From the Company Gardens, down Church Street, reaching as far as Kloof and Buitengracht Streets guests will find various art galleries showcasing a wide range of genres – including modern, contemporary, paintings, sculpture, mixed media and photographic works. A walk around the City is simply incomplete without allowing for a cultural pit-stop or two.
8. Bree Street (about a 2 minute walk)
Image courtesy of SafariNow.
Bree Street is certainly not a one stop location and could take the whole day to explore depending on your preferences. There are a number of vibrant cafes and bars, coffee shops, top restaurants, galleries and boutique stores dotted all along this popular Cape Town street – which is increasingly being nicknamed 'Cape Town's capital street'.
9. Bo Kaap Museum (about a 10 minute walk)
Image courtesy of Zashuttles.
Famous for its roads of colourfully painted houses, the Bo Kaap area is a must-see for visitors who are eager to experience an authentic cultural experience of historic Cape Town. The museum is situated in the heart of the Bo Kaap, an area which became home to many Muslims and freed slaves after the abolition of slavery in South Africa. The museum is furnished as a typical house that reflects the lifestyle of a 19-century Muslim family living in this vibrant, colourful community.
10. Greenmarket Square (about a 10 minute walk)
Image courtesy of Just a Surfer Dude.
One of Cape Town's most famous inner-city tourist attractions -Greenmarket Square – is a longstanding informal trading market spot for many vendors in the Cape. With plenty of appealing items to choose from, ranging from jewellery, clothing, fine art paintings and sculptures to local hand-crafted produce, the market is a must-stop for any visitor to Cape Town.
Want more guidance on the hotel's neighbouring attractions? Our Concierge desk is on hand 24-hours a day to provide assistance and help you experience Cape Town at its finest.
Click here to download a PDF file for printing.
**Estimated walking times are given as a reference only and may vary depending on chosen routes and fitness levels.