SNEAK PEEK AT SOME OF THE CELEBRITIES THAT SELECTED PEPPERCLUB HOTEL & SPA AS THEIR HOME AWAY FROM HOME DURING THEIR STAY IN THE MOTHER CITY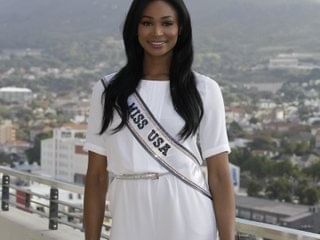 Last year saw many well-known personalities visiting the hotel, from musical artists to actors and international beauty queens, which cemented us as one of the hotels of choice for celebrities within the Mother City. The suite of choice for many of these celebrities was our luxurious three bedroom Penthouse suite which spans across the top two floors of the hotel, complete with a rooftop swimming pool and wrap around balcony, which both boast 360 views of all the city's best features!
The first Miss USA with South African roots, Nana Meriwether, visited Cape Town in May 2013 for a whirlwind two day stay, before travelling to Johannesburg, Mpumalanga and Zambia. She was joined by her family and stayed in our luxurious Penthouse suite for the duration of her visit. We were lucky enough to have a mini photography shoot with her, with the picturesque views offered from the balconies of the Penthouse as the perfect backdrop.
Nana's South African roots are as a result of having been born in Mpumalanga while her father was a medical missionary in the country. She was in South Africa to raise awareness for the Meriwether Foundation, a non-profit foundation that serves the most impoverished sectors in five Southern African nations. She had a fantastic stay in the Penthouse and mentioned on her departure that she could not wait to return to the city – especially to Pepperclub Hotel!
American rapper, Lil Jon, also enjoyed a four night stay at the hotel in November 2013, as part of a Cape Town Tourism promotion.
We also had the privilege of being included in an episode of An Idiot Abroad, a British travel documentary television series, when they were on location in South Africa filming an episode with Karl Pilkington, the star of the series. In line with the episode's theme, which was linked to 'The life of a millionaire', our Penthouse played a leading role in the episode, which saw Karl lapping up the luxurious amenities of the suite. Karl was blown away by Pepperclub Hotel & Spa and thoroughly enjoyed his two night stay in the Penthouse, both on and off camera.
Other celebrities that have visited the hotel in the past year include: American rock band Collective Soul, local artist Loyiso Bala, South African rugby union players Bismarck Du Plessis and Steven Kitshoff, rapper AKA, English actor and musician Anthony Stewart Head, Jazzy Jeff, as well the entourage for Rihanna and the Dave Matthew's Band and Minister of Sports and Recreation, Fikile Mbalula and Chief Justice of South Africa, Mogoeng Mogoeng.
Pepperclub Hotel & Spa has also become a favourite for Carte Blanche presenter, Derek Watts, who is now a regular guest at the hotel, and part of the Pepperclub family.
Since opening the hotel in 2010, we have also had the opportunity to host Sean Kingston, Seal, Akon, Roman Abramovich, George Benson, Earth Wind and Fire, Rammstein and Fat Boy Slim.
With the number of global, A-list artists either visiting Cape Town or selecting the city as part of their world tours, we are hopeful of having the opportunity to host more interesting personalities in 2014.